Welcome Sylvia and her new release Beautiful.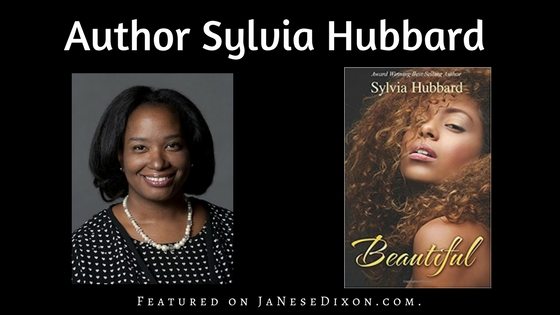 Detroit Author & Founder of Motown Writers Network, Sylvia Hubbard has published over 40 books on suspense romance and one book on Internet Marketing for Writers.
As a happily divorced mother of three, Ms. Hubbard has received numerous awards and recognitions for her work. An avid blogger, Ms. Hubbard has had five #1 Best Sellers on Amazon. Her current work is Beautiful and she has two more books coming up in 2017, including stories on her website.
Madison wanted more than anything to be beautiful and meeting a tall, handsome stranger was the answer to her prayers. Yet, was meeting the stranger all a ploy to steal her valuable research? Or did he really love her? She must discover the truth, but will she survive or lose herself and everything she has worked for.
Find the answers wrapped around suspense, drama, and romance in Beautiful, Author Sylvia Hubbard's 40th Novel. Read more of this author's work at: www.sylviahubbard.com
Of course, she ended up missing her bus again, but Jamar was parked between the abandoned buildings, smiling as she walked up to him.
"Looks like rain, Madison. You sure you don't want to get inside?" he suggested.
Today, he wore a T-shirt and some loose jogging shorts. She could tell he was fresh out of the shower because she could still smell soap on his skin, even standing two feet away from his open window. His teeth shone like brand new. He looked like he was genuinely happy to see her. She couldn't understand his fascination with her.
"Why me?" she asked.
"Why you for what?" he asked. "I'm being a friend. Making sure no weirdo bothers you," he explained.
"Why do you want to be my friend?" she insisted.
He shrugged. "You look like you needed one and you look like a pretty nice girl."
"I'm not a little girl, Jamar. I'm just about to turn twenty-nine."
"I would agree you're not a little girl," he said.
The sky seemed to open up and rain came down.
He motioned for her to hurry and get in the passenger side, and she didn't hesitate because other than running into an abandoned house, there was no cover.
Once she was ensconced inside his vehicle, she could see him at perfect eye level. His legs were long and she could see the muscles in the arms. Jamar had to be mid-thirties, but she wasn't absolutely sure.
"Do you often stalk girls at bus stops?" she questioned.
He smirked guiltily. "I don't, but my mornings are free and I saw you out there a couple of times when I picked up my god-niece and just wondered…" He let his voice linger, looking at her.
"Wondered about what?" she pressed, listening for the bus, but the pellets of the rain on the car got in the way.
"The other day you were…well, you had on these stockings and pleated skirt, and when the wind whipped about, your side was to me…" His voice wandered off and he smirked wickedly this time.
"What?" she urged.
"You wear those clips on your stockings," he noted.
Madison blushed explaining, "I can't wear full stockings. They make me break out."
"But you can wear them on your legs?"
"Yes, but my thighs and backside will break out." She was becoming more embarrassed, speaking about this to him.
His eyes wandered down to her legs.
She was wearing another heavy polyester pleated skirt with a black top. This was one of her stepmother's old dresses, two sizes too big for her, with lots of safety pins to keep it at least on her shoulders.
"Do you have them on now?" he asked.
Pressing her legs together, she knew answering could take her down a very naughty road. Yet if she didn't, she would never know, and curiosity was killing her.
"I have to wear them," she answered. "Every time I wear a dress or skirt."
"Can I see?" he asked.
"I-I don't think…" She could feel her cheeks burning.
The panic sensation came upon her suddenly.
The bus was coming. It was a perfect time to jump out of the car.
Jamar only waved and, as usual, waited until she was out of sight.