Do you ever feel like you need a little luck in love?
Well, I joined a group of authors and we are aiming for a bestsellers list for this anthology.
The PREORDER is available and you'll get 21 stories for 99 cents. WOW!
As for my story inside, I'll share more with you really soon. For today, preorder your copy and mark your calendar because March 13, 2018, Tempting Luck is coming YOUR way.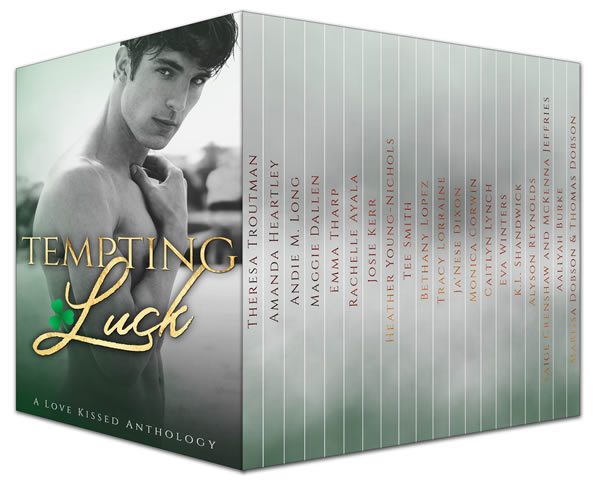 About Tempting Luck
I needed a little "luck of the Irish" on my side.
Doesn't everyone?
But I had no idea that a little luck could mean bad luck too.
What started as a perfectly polished plan turned tainted and tarnished.
I was just trying to get back on my feet, back to the lucky side of life.
But then everything changed…
One look, one touch, one taste,
And now, suddenly, my luck is improving.
This just might be the trip I'd wanted all along.
In this 21 book boxed set, from New York Times, USA Today, and other bestselling authors, find out just how lucky you can be with just one click. You'll be packing your bags and hoping Ireland will have just that sexy sort of magic you've been looking for.
Contributing Authors:
Theresa Troutman
Amanda Heartley
Andie M. Long
Maggie Dallen
Emma Tharp
Rachelle Ayala
Josie Kerr
Heather Young-Nichols
Tee Smith
Bethany Lopez
Tracy Lorraine
Ja'Nese Dixon
Monica Corwin
Caitlyn Lynch
Eva Winters
K.L. Shandwick
Alyson Reynolds
Taige Crenshaw and McKenna Jeffries
Aaliyah Burke
Marissa & Thomas Dobson
Emma Nichols
PreOrder Today!